Not strictly in Calais, Le Chai Ardresien has the largest selection of French Koscher wines in northern France, some 3,000 in total representing all regions of France. A visit is well worth the 5 minute drive from Calais. The husband and wife team of Paul and Bea Jones made their dream come true by establishing Wine Emporium in May 1993. Since then they have expanded and moved to large and spacious premises at Coquelles in 2011. A unique feature is tasting on a generous scale (unlike any other shop in the area) with an impressive "degustation" area. Many wines, most chosen by the customer, can be sampled. You will remember your friendly welcome and an impressive range of wines. Gourmet occasions with Kosher wine tasting throughout the UK in aid of local charities.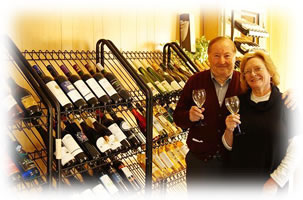 OPENING HOURS 2012/2013


Monday to Friday 9am to 6pm non stop
plus every first weekend of each month 11am to 3pm.
We do not close for the lunch hour.
HOLIDAYS 20012-2013


20/12/2012 - 06/01/2013