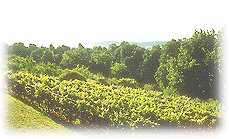 At some time or other we have all wanted to enjoy again that favourite wine we tasted on holiday in France either at the vineyard, in the restaurant or with friends, when the wine struck just the right note. But once back in the U.K. it all seems too far away and somehow too difficult to repeat. However, now, with our new service, you can get your wine sent to you with just a couple of phone calls.
Here at L'Chaim Wines situated five minutes from Calais, we have massive storage space, a large Kosher wine shop and long experience in dealing with wines that come directly from the vineyard. During the past year alone our depot handled over 25,000 cases of wine, delivered from the vineyard for collection by U.K. aficionados. We receive and store the wines for you until it is convenient for you to come to the Pas de Calais to collect, saving an otherwise long journey to one of the wine growing areas.
HOW IT WORKS:

a.

You make contact with the vineyard and order your wines for delivery to Senlecq L'Chaim Wines - address is below. Most vineyards will accept a credit card and arrange transport.

b.

Order your cases - no number is too small for us to store.

c.

Obtain an expected date for delivery: normally allow 2/3 weeks.

d.

You 'phone us at Senlecq L'Chaim Wines to inform us of the expected delivery and general details.

e.

We receive your wines, check the delivery note and store them, fully insured, until you collect.

f.

On collection you pay Senlecq L'Chaim Wines :

Storage prices from 01/01/2013
Up to 3 months: 3€ per case
Up to 12 months : 6,50€ per case

All prices VAT inclusive

A special trade rate for wine producers of wholesalers selling in UK. Thus avoiding charging customers duty and taxes of £3 per bottle.

g.

We do not place any restriction on length of time stored.
HOW TO CONTACT US:


Agrandir le plan

Address:
Senlecq L'Chaim Wines
ZA Eurocap
(Parc Courtimmo)
Bâtiment A105
Rue du Cap Gris-Nez
62231 Coquelles
France


Email:
lesaubainesduphenix@gmail.com

Tel:
Tel: +333 21 36 26 26

Fax:
+333 21 36 22 22